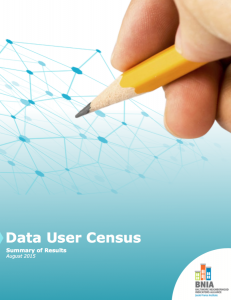 On the Baltimore Data Day 2015, participants on and off-campus told us how they use the Vital Signs data that the Baltimore Neighborhood Indicators Alliance releases every year. Baltimore Data Day is an education and training workshop that builds community capacity to access data.
The two main goals of the data user census were to:
1. Examine current data usage
2. Gain a better understanding of gaps
The top responses to "What is the main reason your community or organization uses Vital Signs?" were:
· Neighborhood research and evaluation (29%)
· Understanding the needs of people served in neighborhoods (26%)
The top responses to "What are some of the greatest challenges your community or organization faces in using data?" were:
· Unable to dedicate time to data work (47%)
· Not sure where to find or how to collect data (22%)
Gaining a better understanding of gaps that exist both in skills and available data is a preliminary step to filling in these gaps. The results of the Data User Census suggest that a primary challenge facing organizations in Baltimore is a lack of time to dedicate to data work. Workshops, like Baltimore Data Day, can teach people how to work with data more efficiently so that it takes up less time. In addition, networking opportunities can connect organizations who need help accessing and analyzing data to others who may be able to provide these skills.
Acknowledgements: This report was written by Johanna Busch who served as 2015 Sondheim Fellow to BNIA-JFI. The Walter Sondheim Jr. Maryland Nonprofit Leadership Program is a scholarship within the Shriver Center at the University of Maryland, Baltimore County.
– Seema Iyer, PhD.