Seema Iyer – Associate Director, Jacob France Institute
Seema D. Iyer, Ph.D. is associate director and research assistant professor for the Jacob France Institute in the University of Baltimore's Merrick School of Business and has overseen the Baltimore Neighborhood Indicators Alliance since 2011. Dr. Iyer holds a Ph.D. in urban and regional planning from the University of Michigan, Ann Arbor, specializing in comprehensive and strategic planning for community development. She serves on several community-oriented boards including Baltimore City Head Start and the Baltimore Community Foundation Neighborhoods Committee and in 2010, she was recognized as one of Maryland's Leading Women by the Daily Record. She is co-chair and teaches in the University of Baltimore's Real Estate & Economic Development program. Prior to joining the University of Baltimore, Iyer served as Chief of Research & Strategic Planning for Baltimore City's Planning Department and was responsible for data and policy analysis, geographic information systems services and population forecasting. She spearheaded the city's 2010 Census Complete Count Campaign as well as other planning processes such as the 2009 Food Policy Task Force and the 2008 Comprehensive Economic Development Strategy. She earned her M.A. in regional science and B.A. in mathematics and Russian studies, both from the University of Pennsylvania.
Contact Seema Iyer at (410) 837-5797 or E-mail: [email protected]
Cheryl Knott – GIS Project Manager
Cheryl Knott is the Geographic Information Systems (GIS) Project Manager for the Baltimore Neighborhood Indicators Alliance-Jacob France Institute. For over a decade, Cheryl has worked to ensure the accuracy, consistency, and reliability of community indicators that describe the quality of life for Baltimore City communities. She coordinates with staff and external data-creating agencies to produce customized statistical and research reports and evaluations that examine neighborhood-level trends on socio-economic characteristics, crime and safety, public health, housing and community development, educational achievement, and sustainability. She also provides training to the public on using GIS resources, community asset mapping, evidence-based practices, and communicating data for grant writing. Cheryl is involved in coordinating Baltimore Data Day, an annual event that brings together a diverse audience to talk about data and resources in the city. She is a proponent of data democratization and has a strong interest in making GIS data open and usable to the public as well as other professionals. Prior to her arrival at BNIA-JFI in 2007, Cheryl studied at the University of Maryland, Baltimore County (UMBC), receiving her Bachelor's degree in Geography and Environmental Systems and a certification in Cartography in 2007 and a Master's degree in Applied Sociology in 2013. Her research interests include the relationship between crime and the built environment including developing new quantitative measures for studying urban crime risk at the block level. In 2017 Cheryl was awarded the UB Staff Award for Extraordinary Public Service to the University and Greater Community for her work on communicating data and information. She is currently serving as the Data and Resources Subcommittee Chair for the Maryland State Geographic Information Committee (MSGIC).
Contact Cheryl Knott at (410) 837-4377 or E-mail: [email protected] | Personal Site
Robbyn Lewis, Civic Data and Engagement Fellow
The n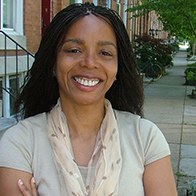 ewest edition to BNIA-JFI, Robbyn will assist with BNIA's increasing role in community-based training on open data for a broad range of networks operating in Baltimore's many neighborhoods. In addition to working with neighborhoods, she will focus on arts and culture-related projects, such as the award-winning GEOLOOM Co>Map. Robbyn serves as a state delegate in Maryland's 46th District. She is an international health professional, sustainability advocate and community leader, and lives in Baltimore's Patterson Park. Prior to becoming delegate, Lewis devoted more than 15 years working around the world on health programs. During 10 years of service as a Johns Hopkins University employee, Robbyn's work included conducting clinical and operations research, scaling up health innovations and strengthening health policies in Asia, Africa, and the Caribbean. She also worked for several years at other international organizations, including the World Bank and Family Health International/FHI360. Robbyn began her international health career as a Peace Corps Volunteer in Niger, where she worked in a remote maternal and child health clinic. She has applied the grassroots health activism skills she learned in the Peace Corps to improve everyday quality of life in her Baltimore neighborhood; for example, by creating and leading large-scale tree plantings, expansion of energy conservation, recycling and placemaking. Robbyn also served as special assistant at the Maryland Health Benefit Exchange, where she helped to expand access to affordable, quality health insurance coverage to more than a million Marylanders. Robbyn holds a Master of Public Health in International Health degree from Columbia University and a Bachelor in Anthropology degree from the University of Chicago.
Contact Robbyn Lewis at (410)837-4015 or Email:[email protected]
Charles "Carlos" Karpati – Civic Developer
Contact Carlos Karpati at [email protected]
Logan Shertz – Student Assistant (Real Estate)
Contact Logan Shertz at [email protected]