Thank you for joining us at Baltimore Data Day!
Friday, July 12, 2019
University of Baltimore, Law School and Thumel Business Center
1401 N Charles Street and 11 W. Mount Royal Avenue, Baltimore MD 21201
View the 2019 Agenda | Archive of Past Data Day Presentations
What is Data Day?
Baltimore Data Day is an annual workshop to help communities expand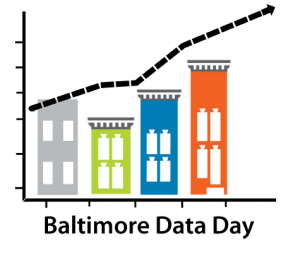 their capacity to use technology and data to advance their goals. At the 10th Annual Baltimore Data Day, community leaders, nonprofit organizations, governmental entities and civic-minded "hackers" came together to see the latest trends in community-based data, technology and tools and learn how other groups are using data to support and advance constructive change. Baltimore Data Day is structured around a series of "how to" interactive workshops in which people who work with data will explain what data is available, how to access data, and why data can be actionable for communities.
For more information about Data Day please email [email protected]. For details on how to support BNIA-JFI, visit our Donation page.
Opening Session: Digital Access and Equity in Baltimore City
Thursday, July 11, 2019
Check-in: 2:30 – 3:00 p.m.
Keynote Session: 3:00 – 5:00 p.m.
Reception: 5:00 – 6:00 p.m.
Federal Reserve Bank of Richmond, Baltimore Office
502 S. Sharp Street
The Federal Reserve Bank of Richmond partners with BNIA-JFI's Baltimore Data Day to host a panel discussion with community/agency presenters describing available data requiring additional analyses and/or interpretations, followed by a more general discussion of community-academic collaborations. The purpose is to explore how better to improve the health and well-being of Baltimore's residents through community-academic collaborations.
Research suggests that Baltimore lags behind many cities when it comes to the number of households with home internet connections, with the U.S. Census Bureau's 2013 American Community Survey ranking Baltimore 261 out of 296 cities surveyed.  According to BNIA's  Vital Signs 17, 24.6% of Baltimore City households have no access to the internet in their home. Let's explore innovative opportunities and data driven solutions to overcome the challenges Baltimoreans face each day participating in the digital economy.
Keynote Speakers:
Dr. John B. Horrigan, Senior Fellow, Technology Policy Institute
Jane Brown, President and Executive Director, Robert W. Deutsch Foundation
Amalia Deloney, Director of Programs, Media Democracy Fund
A  Panel of Featured Community Stakeholders

---
Baltimore Data Day 2019 is sponsored by: